ソーラークッカー&ソーラーオーブン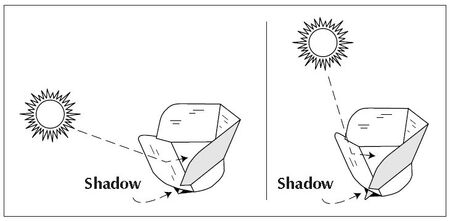 Raise or lower the front flap so there is a small shadow, no more than half its width, under it. The flap should be angled higher when the sun is high and lower when the sun is low. You want the from flap to reflect the sun, not block it.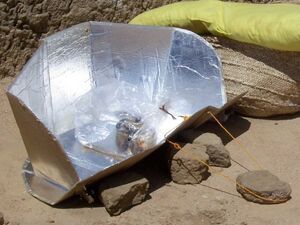 Tying down a CooKit solar panel cooker so that it can withstand the winds at the Iridimi Refugee Camp where over 5000 CooKits are in use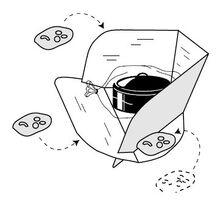 On windy days, large stones or bricks can be placed on the edges of the CooKit, as well as under the front panel.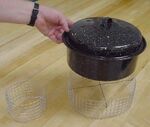 Dr. Steven Jones found that raising the pot on a wire frame improved cooking in a panel cooker. It is also possible to set the pot on a clear glass bowl.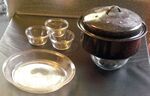 Glass bowls and pie pans can be used to raise the pot off of the bottom of the cooker (note that the pot would normally be enclosed in an oven cooking bag when using a panel cooker). In some cases, they may provide more stability used upside-down.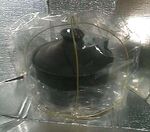 Wietske Jongbloed created a simple frame to allow the use of normal plastic bags (instead of heat-resistant oven cooking bags).
Jose Albano created this frame to protect normal plastic bags (photo shows frame with bag removed).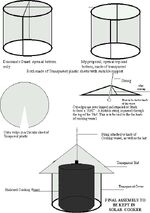 Dr. Ashok Kundapur has suggested a way to make a housing out of flat plastic sheeting. A bottom cylinder is supported by wire frame while a transparent cover, made of the same plastic material, makes access to the food very easy. This arrangement can also be used for retained-heat cooking.
Another main acitvity of Eco Center ICNEER is the promotion of Solar Cookers, enabling the rural population to cook without having to search for fuelwood, which is a time consuming work. Even worse is the impact on health and environment caused by burning fuelwood, such as lung diseases and eye problems, pollution and climate change. Moreover, Solar Cookers can be used for income generation, enabling women to earn money for their family and rising independency regarding their husbands. The Seifert SK-10 and SK-14 Cookers are relatively cheap to buy and can be used to cook for the family, as well as baking bread, cakes, making sweets, tea and so on for selling. Eco Center ICNEER is working on providing microfinancing schemes to enable a clean development in rural areas.

The Seifert Domestic Solar Cooker and its inventor, Dr. Dieter Seifert of Germany ( 2nd from the right)
Smoke Free Villages
Eco Center ICNEER / Gadhia Solar Energy Systems has provided 26 solar cookers to Bysanivaripalle, Andhra Pradesh, funded by Austrian School Children who raised the money by selling solar baked cakes on their local marketplace and the Austrian NGO Intersol.

Cookers in Bysanivaripalle